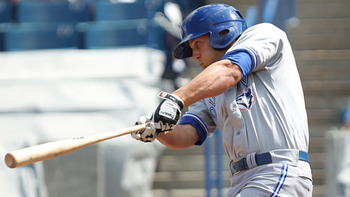 On the occasion of the LCS opponents being set with the Cardinals storming back to knock out the Nats, I begin my annual fall series looking at the jays farm system by position. I note with interest that a couple of other sites have picked up on my schtick and are probably doing it better but I was doing it first so I'ma keep on doing it.
Anthony Gose (who would have been probably #1 or at least #2) graduated from eligibility this summer as did Moises Sierra who would have fallen no lower than 7th and possibly higher. I also included a couple of bonus listings at then end in recognition of some special circumstances.
1.
Jake Marisnick
- (3/30/91) - reports have begun to emerge that the Jays spent a good deal of this season refining a change in Marisnicks swing (as they have constantly refined Gose's since his acquisition) and that his season stats do not necessarily reflect anything other than the side effects of that process. I'm as big a believer in Jake as you will find, in fact I'm more excited about him than I've been about any Jays outfield prospect in more than a decade, save Travis Snider (Shaddup!). So I'm willing to grant him a LOT of slack. But as i look around the net i don't see any professional evaluators very down on him so I'm going to assume it's not just me. Marisnick did see to "lock in" on the new swing over the last 10 games posting an OPS of ..969 over that stretch, but it's a tiny sample. At lease one (non-Jays)scout has been quoted as saying he expects a huge breakout season next year in AA. That would work for me.
2. D.J. Davis
- (6/27/93) - On draft day i wasn't particularly high on this pick and his work in the GCL was not of a caliber to make me reconsider. But the Jays saw enough to promote him to Bluefield where, in another 10 game sample, he showed quite well..My post-season reading indicates that most observers are high on Davis, considering him a potential Top 10 prospect (no mean feat in this organization) so I'm deferring here to better informed views. Davis is described, in several ways, in similar terms to what you've heard about Gose, except that I've heard nothing to indicate he has the arm Gose does. In fact, the stats indicate that the Bluefield sample was also blessed by a really high BABiP and a quite high ground ball rate which would lead one to suppose that Davis used his speed to pressure young defenders fielding ground balls and that led to the offensive success. Which reminds you of whom?
3. Dwight Smith, Jr
. - (10/26/92) - Another 2011 draft pick I was only lukewarm on, in contrast to the reviews of many others. He didn't do a thing at the plate to raise my view of him this year, albeit his season was saddled with an astonishingly low BABiP. Still, there've been enough good reports that I'll give him a mulligan on the first year, and he ends up this high partly because it wasn't a great year for high-profile outfield prospects in the Blue Jays system.
4. Chris Hawkins
- (8/17/91) - Case in point. Hawkins is a LF, unlike the CF above him (albeit Smith probably won't stick there) and as such has to develop as a hitter in order to be a premium prospect. Looking back,Hawkins might have been a bit too highly regarded based on his previous work as he came into the 2012 season. It's a lot harder to hold him in high regard now. Another season like those so far and he'll free fall down this list.
5. Kevin Pillar
- (1/4/89) - so far i've factored in heavily scouting reports and draft pedigree and so forth to look beyond stats. Pillar is the opposite of that. Lightly regarded, expected frankly to probably be an org guy, and a bit old for his level - Pillar did nothing but flat out hit this year. He hit better than any other outfielder in the system in fact. Still, scouts agree his ceiling is limited, though he's praised for work ethic, passion, and making the most of his skills. Me:/ I'm already thinking "Reed Johnson 2.0"
6.
Wuilmer Becerra
- (10/1/94) second only to RHP Roberto Osuna on the list of Jays Latin American players signed in the summer of 2011, the Jays thought enough of Becerra to start him in the GCL rather than the Dominican League, which is aggressive. Sadly for our purposes and for his development, he played a total of 1 games before he was hit by a pitch and spent the rest of the season on the DL. There's no point in commenting on his stats. on raw tools he might be the second best guy on this list, but he's so very far away and so much could go wrong.
7. Dalton Pompey
- (12/11/92) - Another guy who spent most of the season on the DL. Altogether he accumulated only 20 games played so statistical observations are so much wishcasting - but I'll do it anyway in this regard: Pompey finished the season with 11 games playing for the championship-bound Vancouver Canadians. and in those 11 games he walked nine times. Potential to break out next year.
8. Jacob Anderson
- (11/22/92) here for the tools. After blowing the doors off in his brief 2011 stint, a lot was expected and Anderson delivered virtually nothing on those expectations. some scouting reports suggested he looked confused or hesitant at the plate. He's too high a profile talent to start giving up on but he seriously needs to rebound next year.
9. Jesus Gonzalez
- (1/11/95) - Like Becerra, he's a RH Venezuelan OF signed in 2011 and aggressively sent for his first professional work in the GCL. For the most part, he did about what you would expect there and you really shouldn't worry too much about that stat line. Such players are always very raw.
10. Marcus Kenecht
- (6/21/90) - After a breakout 2011 in Lansing, the LF was promoted to Dunedin for 2012 and went right off the cliff. While he maintained reasonably good power his BA was attrocious pretty much all year. He did post decent numbers for August, which perhaps lends some hope that this was a fluke down year. Need a solid season to get back on the map next year.
HM: Anthony Alford
- can't put him on the list because he may never actually be a committed prospect for the Jays. But on tools, he'd definitely deserve attention. so I just mention him as a very special case and we can hope he wants to be the next Bo Jackson or something.
DM: Michael Crouse
- like Knecht, the promotion to Dunedin was very unkind. After 59 games they returned him to Lansing and he continued to flounder. He doesn't have the pedigree of some other guys on this list and his leash is undoubtedly much shorter. Another guy who needs to bust out in 2013 or risk being cast aside.