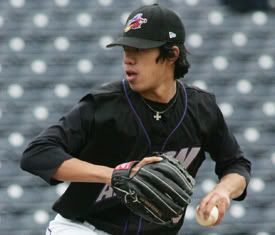 Slow news day as the Jays play out the string during the final week of the season, then it's
announced
that JP has plucked beanpole lefty reliever Reid Santos out of the Indians system. Commence wooting... Now!
Santos now becomes the third weirdest-looking pitcher on the Jays 40-man roster, just ahead of Jeremy Accardo, but trailing Brandon League by a considerable margin. Video
here
if you've got 30 seconds to spare.
Santos, 26, 13th round pick in 2002, Virgo, insert random biographical fact here, split the year between AA and AAA, posting a crappy ERA despite reasonable-ish peripherals (except for the 42 hits allowed in 25 AAA IP) as you had probably already guessed. He started at A ball in 2005, almost exclusively relieved in 2006, got a few starts in at AA in 2007, then went all bully this year. What role he plays next year is probably TBD.
Plagiarizing liberally from a post at Tony Lastoria's nice blog,
Cleveland Indians Minor Leaguer
, in January:
Santos is not overpowering in that his fastball sits around 91-92 MPH, but for a little guy he throws harder than you think. His fastball has good velocity, and he has a good assortment of secondary pitches with a slider, curveball and changeup. His changeup is good enough too where it really plays up the speed of his fastball, and he has the ability to strikeout hitters with his fastball, slider and changeup. He is a strike-thrower and has very good command and location of his pitches to all areas of the strike zone. His durability is also helped because of a low effort delivery.
Santos was much like a super utility pitcher last year in Akron as he pitched in every role conceivable be it in middle or long relief, setup man or closer, or in the starting rotation...
Santos has a great attitude, and his versatility to pitch out of the bullpen or as a starter - especially since he is left-handed - makes him very valuable to the Indians as a possible swing man down the road. The Indians see him as an early lefty out of the bullpen because he has the pitches to come in and attack both right-handed and left-handed hitters.
And there you have it.
Whether Santos ends up pitching in Toronto or not next year, little moves like this (be it scooping up good arms like Scott Downs, Jesse Carlson, Brian Tallet, etc. for cheap) have resulted in the best bullpen in baseball and are nothing to be scoffed at. I note this as a part-time Diamondbacks enthusiast dismayed at how that club likely won't be on its way to the playoffs because the Brandon Webb/Dan Haren tandem, a bevy of exciting young position players, and the key deadline acquisition of slugger Adam Dunn weren't enough to overcome the limitations imposed by a
shitty, closerless bullpen
.
-- Johnny Was