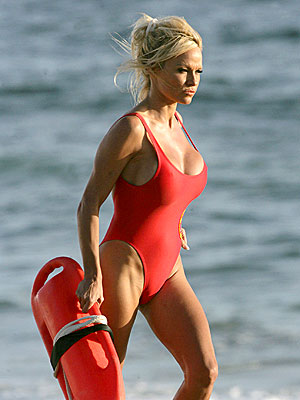 No, this isn't about the pervy 1990s beach show, we're talkin' JASON BAY, Canadian star of the woebegotten Pittsburgh Pirates. This week we're inaugurating a new feature here at the Southpaw: the Jason Bay Tradometer. We'll be monitoring the liklihood of Bay being moved sometime this season.
Why do that? Because he's one the greatest Canadian players in the history of the sport, a 4-tool talent and someone I'd very much like to see in a Jays uni.
Pittsburgh's losing ways have started to weigh heavily on Bay. He won the rookie of the year there in 2005 when the club finished 74-87. Next season he has a monster OPS+ of 150, but more of the same at 67-95. Two more seasons of 67 and 68 wins. There's little hope, other than the fact that they play in by far the worst division in baseball, on the horizon.
Rotoworld
sums 'er up pretty good: "Odds are that he'll never be a part of a Pirates club with a winning record."
It didn't help matters that the Pirates were one of the worst GM-ed clubs in the sport under the wacky Dave Littlefield regime to go along with being one of the smallest markets in the MLB. Replacement Neal Huntington is a more competent guy, but his hands will definitely be tied by a limited payroll and Littlefield's ludicris deadline addition of former Giants shitballer Matt Morris, who'll cost $9.5 million in '08 out of a total payroll of roughly $42 million. That was an act of mind-boggling stupidity which might put Bay, star that he is, beyond their means at the very reasonable price of $5.75 million this year.
Uncle Griff
decided to weigh in on Bay in today's Star and I'm really going to go out on a limb here by guessing that he's got it all ass-backwards. Griff opens up with this odd analogy:
BRADENTON, Fla.
-T
he Toronto Blue Jays and Pittsburgh Pirates are similar in a couple of ways. Each believes that the limited size of its home market hinders its ability to compete and each has a Canadian baseball legend playing left field.


Okie... the Jays are actually a mid-market club no longer hindered by a weak Canadian currency and can pump about $100 million into payroll, probably a bit more. We're more on par with the St. Louis Cardinals than the Pirates. Nevertheless, we must press on...
The objectionable part of the piece is that Griff seems to believe that Bay's recent retreat from some of his more critical public comments regarding Pirates managment indicate that he's content playing in Pittsburgh.
"The club has gone forwards in leaps and bounds with the (coaching) staff and a lot of stuff like the new (spring training) facilities, just little changes that make a big difference," he said. "It's the little things, the attitude that as a player you notice. Compared to the last four or five years, there's a difference. Different for us is good."

And he continues:


"Whether you're playing chess, checkers or major league baseball, no one likes to lose," Bay said. "When you lose over and over, it's very frustrating. You want to win, but there's a lot of ways that people can help you do that. We've got some new things in place. We've got some optimism, for different reasons."
Bay's earlier comments lamented the fact that management didn't bring in any
new players
for a club that had more holes than a wedge of Swiss cheese. The above remarks don't say, "you know what? I've had a change of heart. I like this group and I think we can win in 2008." He's very politely saying that "now that I'm rubbing shoulder's with these people again on a daily basis I'd prefer not to rock the boat." He may be holding his tongue, but I really don't think the Pirates are capable of addressing the reasons why he's unhappy playing in Pittsburgh.
Griff does correctly note that the Pirates can't afford to retain Bay after 2009 when he becomes a free agent and must choose between trading him now for pieces to help down the road or to let him sign elsewhere and take the draft pick. I would add that it almost has to be the trade option by default since Huntington really needs to blow this team up and start from scratch. When you look at the return, say, Nick Swisher brought in (CF
Ryan Sweeney
, LHP
Gio Gonzalez
and RHP
Fautino De Los Santos
), Huntington would be a fool to settle for a single pick.
Now, it's the timing of the trade that's a matter of debate. Bay's value is at an all-time low due to an injury-riddled 2007 campaign where he finished with his first sub-100 OPS+ season as a full-timer. If he rebounds early in 2008, he could be moved as early as the deadline; if not, next offseason.
And now I finally get 'round to the Jays connection. Back in early December
Blair
noted that Jays President Paul Godfrey wants the club to acquire a "big name Canadian player." You can debate whether this makes sense or not until you're blue in the face, but the fact remains that the bean counters are asserting themselves here (like they did when it came to resigning V-Dub in 2006) because they perceive a financial logic to obtaining a Canuck star.
Godfrey was speaking more in general terms than specific when he said: "A front-of-the-rotation guy or a potential all-star like Bay ... you could sell a lot of tickets with that, as far as I'm concerned."
Continuing:
Godfrey says he has championed the cause of Canadian-born players in internal, pre-draft meetings, sometimes candidly, but he's wise enough to let his baseball people make the final call. And that will be the case this week, too - although it's clear that there's some brownie points to be scored here. "Young Canadians are playing a lot of baseball and playing it well," said Godfrey. "Having a Canadian player would allow us to keep the game front and centre. It would give young players someone to emulate."
Erik Bedard was apparently a target for Jays' brass at the winter meetings, but the O's refused to deal with us out of hand and he's since been moved to Seattle. Guys like Russ Martin and Justin Morneau are unobtainable. Jason Bay?

Bay is intriguing on several levels. Ricciardi's assistant G.M., Tony LaCava, lives in Pittsburgh and knows Bay from their days in the Montreal Expos' minor league system. Bay is coming off a down year, although he did not require knee surgery as was originally expected.
He is cheap, photogenic and would be as comfortable being the face of the Blue Jays across Canada as he has been being the face of the Pirates franchise. But he's also a right-hand-hitting outfielder, and the Blue Jays already have that commodity.
The last comment needs a caveat. Like Scott Rolen, Bay has always hit RHP and LHP almost equally well (career OPS of .874 and .940 respectively), making the side of the plate he hits from irrelevant.
At the very least, expect the Jays to be monitoring the Bay situation closely this summer. If they're a playoff contender come July, which they most likely will be,
and
if the Johnstairs platoon isn't yielding the desired results, dont' be too surprised if it gets hot and heavy between JP and Huntington. National pride aside, Bay is just a fantastic player and I'd be extremely chuffed to have him in a Jays uni. It's not as pie-in-the-sky as one might think.
ELSEWHERE:
* Two very different takes on what Fidel Casto's retirement means for the Jays and scouting Cuban ballplayers.
Zwolinski
at the Star interprets JP's recent comments as an indication that the club has no interest in taking advantage of Canada's warmer ties (well, warmer than non-existant; the island is a no-go area for Americans) with the Communist Island Paradise to do some advanced research on Cuban talent.
Jeremy Sandler
at the National Post reads it totally differently, seeing a typical JP "we'll have a look, let's not expect the world" approach.
Guys, JP speaks with a forked tongue, so you have to listen to him carefully.
Sandler notes:
As a Canadian team with Canadian assistant general managers in
Bart Given
and
Alex Anthopolous
— who are free to travel to Cuba — Toronto could in theory scout directly in Cuba right now even with the strict U.S. economic sanctions that are in place. But Ricciardi said the team is governed by Major League Baseball rules that prohibit such activity.
Apparently JP did sign a Cuban defector last summer by the name of Kenny Rodriguez, a right-handed pitcher who should be at spring training sometime this week.
Note to self: it's probably worth checking the Post's sports page more regularly...
*
MacLeod's
"Six Concerns for the Jays" are 1. the 5th starter, 2. the Beej, 3. the youngsters, 4. the offence (especially V-Dub), 5. injuries, and 6. road suckage.
* A nice long talk with Gibby in the
Globe
.
* Sparky tells
Ken Fidlin
at the Sun that he's healthy for 2008.
* The
Star
,
Sun
and
Globe
all come out with pretty much the same story (tailored to the respective literacy rates of their readership), with optimistic news about the Beej being ready for Opening Day.
-- Johnny Was