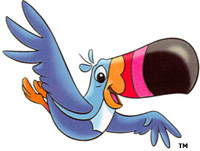 As Johnny mentioned earlier in the month, we've been challenged by several other bloggers to see who's truly the greatest at...fantasy baseball!
So with that in mind, yours truly has just finished 86 grueling, drunken hours of drafting. So as team captain of The Southpaw's official team,
Toucans Of Whoopass,
I've decided that I'll be giving weekly updates on the team once the season starts! Keep in mind that this league does have OBP, and not BA as a stat.
I won't start giving weekly updates till the season starts. For now, just savour in knowing that these are the heroes representing the
Toucans Of Whoopass
.
Hitting
C - Jorge Posada
1B - Nick Swisher
2B - Chase Utley
SS - Stephen Drew
3B - Evan Longoria (I did take Troy Glaus in case Longoria doesn't start in the majors)
LF - Adam Dunn (we're using LF, CF, RF, not the traditional OF OF OF, so this is a big advantage, and it being an OBP and not a BA league Dunn has significantly more value)
CF - Beltran
RF - Corey Hart
Utility - Joey Votto
Bench - Glaus...but as I said he'll start if Longoria is in AAA to start the season.
Pitching
SP Justin Verlander
SP Matt Cain
SP Homer Bailey
RP Rafael Soriano
RP Joakim Soria
P Jason Isringhausen
P Scott Shields
P Ervin Santana
Bench - Jason Schmidt
I figure that we have huge advantages at 2B, C, LF & RF. Utley's in a league of his own, Dunn is an elite LF (especially in an OBP/HR/R/RBI/Slugging...he'll gimme 5/6, with the sixth being SB), Posada even if he reverts to his career norms is still an above average slugging and OBP catcher, and Corey Hart is a steal - his line of 295/353/539 was nearly identical to Soriano's 299/337/560 line last year. Swisher has a great shot at 30-40 HR playing in US Cellular. Votto, Drew & Longoria are all pretty young kids who could be bargains as the season goes on. Glaus is my insurance policy - I figure he'll be on fire till June and get injured just in time for Longoria to be called up.
As for pitching, we got a bunch of high K guys. That's all you can really ask for in fantasy baseball...
The only thing that disappoints me is I didn't pick a Blue Jay, in a Blue Jay blog fantasy league. Hopefully the Jays kickass this year and make me regret not picking up Rolen instead of Glaus.
Twitchy.