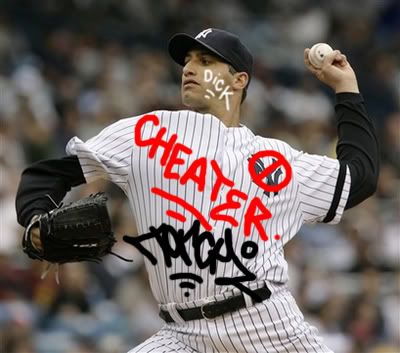 Everyone in Yankeedom is being all smiles and optimism when it comes to the health status of
Andy Pettitte
, who's been bothered with niggling back pain all spring long. You guys know he can't use HGH to speed recovery this time, even if it is for the noble goal of 'helping the team', right?
My gut tells me two things: 1) grab some Twizzlers and 2) the Yankees' patchwork rotation just has to implode this year. I've been having loads of fun with Fangraphs of late, so I thought I'd have a look at what's being projected for the Yankees rotation this year to test my assumption. Rather than do a composite, I'll just base this on
ZiPS
, which is usually middle of the road when it comes to computer projection models.
Neither Wang (who stunk to high heaven against Cleveland in the ALDS last year) nor Pettitte is a true ace. Mussina is very near the end of what was/has been a wonderful career and the Hughes/Kennedy/Chamberlain troika has a combined 115 IP of big league experience. How do the numbers play out? Celine Dion ugly, right?
Here's how the Evil Empire's rotation looks:
Andy Pettitte:
16-9, 4.06 ERA in 213 IP (33 starts)
Chien-Ming Wang:
15-8, 3.92 ERA in 200 IP (30 starts)

Mike Mussina:
11-10, 4.74 ERA in 174 IP (29 starts)


Phil Hughes:
12-5, 3.70 ERA in 141 IP (26 starts)


Ian Kennedy:
N/A, CHONE and Marcel predict > 100 IP

Joba Chamberlain:
9-8, 4.43 ERA in 134 IP (24 starts)


Kei Igawa:
9-10, 5.20 ERA in 168 IP (26 starts)
Disclaimer: If you actually added up the number of starts on this list and got 168, your calculator is not broken.
Those results from this group of broken down vets, a non-ace ace and three snotty little brats? It saddens me to say it, but this is a group you can work with. And by work with I mean win a division. Handily.
4.61 was the average ERA for AL starters in 2007 and all but Igawa, the $46 million Japanese import who sucked his way into a demotion to AAA last year, are projected to be at (-ish) or better than that mark. This probably explains the Yankees unwillingness to sell the farm for Johan Santana over the offseason. Well, the computer projections and Hank Steinbrenner's league leading dickishness. If Pettitte doesn't get hurt and a 39-year-old Mussina does actually rebound from the worst season of his career, this looks to be a formidable group.
And there's the rub: does Pettitte, with more rings than a Serbian human trafficker and a potentially fragile mental state from Mitchell Report fallout, really have the stick-to-it-iveness to get through 2008? I hope not. And a rebound from the warmed over corpse of Mike Mussina? Come on!
I'm at a loss here people. I was trying to inject a ray of sunshine into an otherwise grey Sunday afternoon.
-- Johnny Was