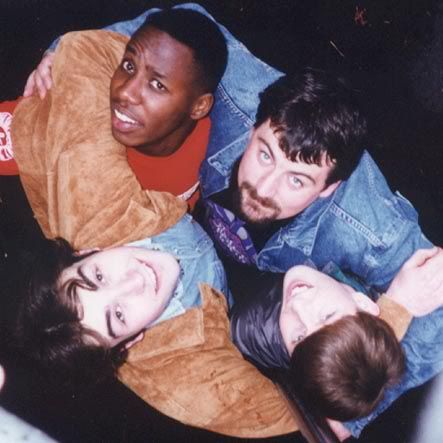 Cue up the Dawson's Creek theme song (I don't wanna wait, for my liiiiife to be over....) because there's a slate of "how sad to say goodbye" stories about Reed Johnson this morning.
Mr. Cathal Kelly
has V-Dub near tears (again), Stewart kind of expressing remorse at taking Sparky's job (buy American!), and JP professing to have a heart (? you've got me).
This is how
Blair
reports JP's justification for his decision to dump a former favourite "who played like his hair was on fire":

"We're going to miss Reed's defence and grittiness, but at this point, we decided to go with offence over anything else," Ricciardi said.

"The best way to describe it and from our end is that every time we play the [New York] Yankees and [Boston] Red Sox, you see those lineups and they're just prolific. And if something happens and we're not in a platoon, Shannon's a guy who can run out and hit right-handers."
Ok, fair enough. I'm getting weary of this whole thing already so I'll let that slide. To his credit Sparky took the whole thing maturely and was actually the one who informed Stewart that he'd won his job. Buck up, son. You'll land on your feet.
Not only does Scott Rolen's tragic finger injury leave the Jays with a potentially gaping hole at third, but it also grossified the club's spring training facility.
Blair(sy)
notes:

There were droplets of dried blood on the sidewalk leading to the Toronto Blue Jays' clubhouse at Knology Park, the route taken by Rolen after he suffered a non-displaced fracture of his finger (he broke the bone above the top knuckle) — ripping the nail off in the process — during a fielding drill on one of the back fields.

Hrm, that's kind of gross. Oh yes: when will he be back playing again? Rolen was dispatched to Baltimore yesterday to see the same hand specialist who dealt with Gregg Zaun last year; JP says he doesn't want to speculate on an injury timetable, but it's not going to be six weeks. A bit of a contradiction, no? It's going to take a few weeks.
Frankly, things could be worse
.
I googled the injury yesterday and discovered at the Fox fantasy site that
Alfonso Soriano
suffered a similar problem this spring (though he didn't lose a nail), missing only a week's worth of fake games. The fracture didn't have any effect on swinging the bat, though throwing was more difficult as is to be expected. So, I'm going to go out on a limb here and say that Rolen will indeed be in playing shape by the home opener, perhaps only in a pinch hitting capacity, but nevertheless. Think optimistically here, people.
John Lott at the National Post notes that it would appear as though
Randy David "R-Dub" Wells
has played his way onto the 25-man roster. Well finagalled (sp?) his way on at least. Is that even a real word? As a Rule 5-er R-Dub would surely be lost to back to the Cubs if he didn't go north and JP would be out a cool $50 grand. And, yes, more importantly, it's starting to click for R-Dub after working with Brad "Arnie" Arnsberg this spring:
"The ball's been sinking for me, and that's been a big part of the puzzle for me to be successful," said Wells, who started pitching near the end of 2003, his first pro season.
"I've always been a four-seam, straight fastball kind of guy, and when I'm not throwing strikes, I've [had to] come in with that and I gave up a lot of hits. Now that I've got that sinker going, it gives me added confidence. When I fall behind in the count, I throw that sinker in there and hope for a ground ball."
It also doesn't hurt that the boss likes his moxie, too. Note to JP: "Wellsie" is a lame nickname.
Richard Griffin's latest mailbag
was posted online almost a week late. It's like someone stole the funny pages out of my morning paper (the Globe and Mail, by the way).
ELSEWHERE:
*
Matt(y) Stairs(y)
will be suiting up for Team Canada at the World Baseball Classic next year when he's a ripe old 41. "Whenever you get 25 Canadians in one locker room, it tends to be quite fun," Stairs said. Presumably this is a reference to
getting drunk and eating chicken fingers
? If the WBC is your bag, here's
Blair's piece
on the political machinations with the Olympics, bringing games to Canada, and so on.
* The Yankees are still pretending that they're not concerned about
Andy Pettitte's wonky back
, which may force him to miss his first real real game of the season. Ok, whatever... Yesterday I implied that time lost to injury for Pettitte is key for the Jays leapfrogging the hated Gothamites in the standings this year.
* You can probably take Brewers lefty
Chris Capuano
out of the rumour mill. It looks like he's headed for a second Tommy John, which would probably be a career killer. But you're saying, "hey wait, didn't Victor Zambrano successfully come back from two TJs?" No, you're not saying that, are you? And
John Patterson
signs with the Rangers.
-- Johnny Was