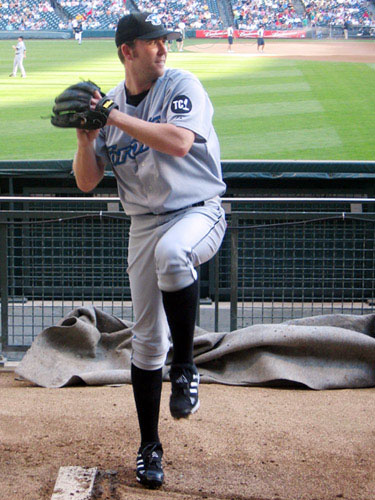 Cathal Kelly
writes that Casey Janssen's role this year will be tied to the Beej's health: if the Beej comes North at the end of the month, Casey's a starter, if not, he's back in the pen. We all knew that there was going to be a linkage between the two, but is it really going to be that strict?
Would the club really forgo using Janssen as a starter, which JP strongly feels is his most useful role to play, just because the Beej starts the season a month late? Even knowing that if he starts in the pen, it'll be more difficult to stretch him back out should he be needed as an injury replacement if one of Doc/AJ/McGowan/Marcum gets hurt early?
Really, it just doesn't seem wise to use Janssen out of the pen in '08 unless a) other viable 5th starters emerge--Chacin? pppft! Litsch? not ready; or b) the Beej has a serious setback and is lost for most or all of the upcoming season.
Kelly calls the decision on Janssen's role this year a "difficult" one, but it's really not. Yes, it will be shaped by external factors to a certain extent, but the right choice is pretty obvious. Forgotten Man Jason Frasor can adequately cover Casey's pen innings next year, and Wolfe can cover his. Easy peezy.
In related news,
the Beej
will not be getting his first taste of grapefruit action (mmm, grapefruit action...) this weekend as early hoped. His surgeon, Dr. Tim Kremchek, put the kibosh on that. Gibby says he'll give the Beej a couple more simulated games and then hopefully have him appear in a real fake game about 7-10 days from now.
Clarifying:
"It's not a setback," said Gibbons. "The doctor just feels better about doing it like that because when (Ryan) gets into a real game, the adrenaline is going to start flowing, he's going to push himself that little bit harder.
The decision comes after Ryan said "now is not really the time to be holding back a lot," following an 18-pitch simulated game Wednesday. By all accounts he looked good in that contest and plans to pitch him Saturday followed.
ELSEWHERE:


The Giants need a shortstop to replace the injured Omar Vizquel; time to start some crazy J-Mac for Tim Lincecum internet trade rumours?
Rando CP guy checked in our fave
Jason Bay
yesterday because the Jays happened to be playing his hapless Pittsburgh Pirates. Bay admitted that his spot on offseason critiques of his club's crappiness was the by-product of frustration with what was a poor season individually and collectively from a group that
could
have performed better. He has the same kind of optimism for 2008 that I do when I buy 6/49 tickets, but that doesn't mean he has a long-term future with the club:
Despite the sunny outlook, Bay's days in Pittsburgh may very well be numbered.
New general manager Neal Huntington opted against stripping down the long-suffering club — mired in a run of 15 straight losing seasons — during the off-season, deciding instead to give them another chance in 2007 before taking that route.
Should the Pirates continue to struggle, Bay and other veterans with market value could be moved for young players as part of a rebuilding program. If they start winning, they may try to add on to make a run in the weak National League Central.
None of this seems particularly surprising or offputting to Bay.
"I'd love nothing more than to do it here having been here through all the bad times, kind of like the Tigers, through the 120 losses and all of a sudden a couple of years removed from that, boom," said Bay. "There's a lot more to be said for that than just kind of going to a team.
"At the same time, it's easier to say that than for it to actually happen. There's some steps we need to take from where we're at, it's not going to be an overnight thing. If it looks like it's going to take more time than I have, does that make a lot of sense?"
As Rando notes, Pirates GM Neal Huntington is most likely biding his time for a deadline deal in the hopes that Bay can rebuild the trade value he lost last year due to a relatively poor season caused by tendinitis in his right knee.
The Jason Bay Tradometer will be adjusted accordingly to these new developments.
-- Johnny Was