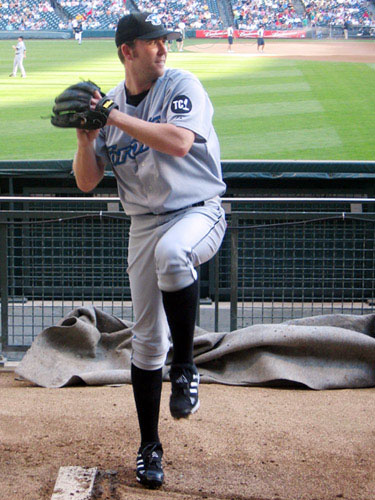 Casey Janssen is out "indefinitely", which means that no one knows yet if/how seriously injured he really is or how long it'll be before he starts throwing again. The
results of his MRI
are in, but the Sun says that the club isn't ready to share them with the unwashed masses just yet. Start lighting the little white candles.
Early reaction from the chattering masses of Jays fandom quickly morphed from "oh, this is terrible" to "this must somehow be JP/Gibby's fault" in a matter of seconds. If you jumped to that conclusion, consider yourself rebuffed with extreme prejudice via
MacLeod
:
Gibbons said Janssen had a sore shoulder a couple of times last year, but it was not serious.
"It was no big deal," Gibbons said before yesterday's Grapefruit League game at Legend's Field, a 6-1 victory by the New York Yankees. "We gave him two or three days off and he was fine."
Another mistaken assumption from many yesterday was that the Armando Benitez signing was a reaction to the Janssen injury. As it turns out, that deal was done earlier on in the day (for some reason). MacLeod's reporting that he's badly out of shape but is throwing the ball well. His best hope of making the club is as a mop-up man. Get him a ticket to Syracuse already, will you?
Alan Ryan
speculates that lefty invitee John Parrish could be stretched out to give Litsch some competition for the final spot in the rotation, but it sounds more like he was thinking aloud than reflecting on club policy. I said yesterday that we should throw some dough at Kyle Lohse, a 1-year deal for $3 million?, and I haven't changed my mind overnight.
The Mets are indeed still expressing interest in
Reed Johnson
, who is "looking good" in spring traing so far
according to Jays officials
. Hahahaha! Sparky's been a loyal foot soldier and I guess there's some consulation for him going to a playoff contender if this goes through. He'll have to learn Spanish, though, but still. He'd get to steal bases, too!
We already knew this, but
Gibby
is making clear to all that Gus Chacin is not competing for a starting job and is almost surely ticketed for Syracuse.
ELSEWHERE:


* I never got the whole "Juan Rivera is the odd man out" line from the Angels beat. Back in 2006 the former-Expo had a breakout age 27 season--his first as an everyday player--and put up a very Alex Rios-y line. It all went pear-shaped in winter ball, where he broke his leg. He lost pretty much all of last season as a result. He plays all three OF positions and has no major difference between his lefty-righty splits.
With Torii Hunter in centre and Vlady in right, allegedly ahead of Rivera on the LF depth chart are Garret Anderson (a sentimental fave screaming for full time DH duties), Gary "Sarge" Matthews Jr. (he of the outrageous contract), and Reggie Willits (a scrappy little guy who swipes bags and has been threatened by Mike Scioscia with a savage beating if he should ever hit a homerun). I'd take Rivera over all three of them, but that's just because I like players who can hit and/or aren't old and broken down.
Lo and behold, new
Angels GM Tony Reagins
says that while the OF situation is crowded now he isn't going to just going to dump a solid player as other GMs come calling for a bargain. (Omar Minaya, I'm looking at you!) While Rivera might be a depth guy this year, he's still under control through 2009. This is pretty great news because it takes off a superior righty OF bat off the market that desperate club's would've preferred to Reed's. Haha, Mets!
*
Josh Beckett
is highly unlikely to make the club's trip to Japan. It's a two game set with the A's on neutral ground, but the crowd should be heavily (if not entirely) pro-Boston. Instead of Beckett-Blanton, Matsuzaka-Harden, the Bosox will have to throw out whom exactly? Tim Wakefield and Jon Lester?
* It's really too bad that
Bill James
works for the Red Sox front office, but he doesn't let that stop him from sharing all sorts of fun information useful to rival clubs.
* It really doesn't matter who was right or wrong: is there anyone in this world beyond Yankeedom who'd
sympathize with the Yankees over the Rays
should things get nasty?
* Are you feeling CRAZY? Then why not give your life savings to
Lenny Dykstra's Luxury Car Wash/Investment Firm
!
-- Johnny Was