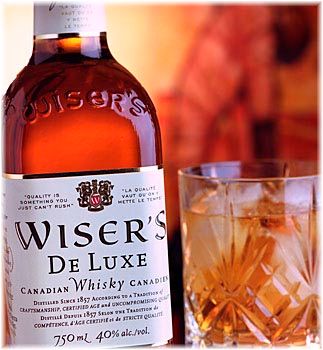 Do you give JP points for trying? He proposed more wacky trades this afternoon than some of my fantasy poolies at 3 a.m. on Sunday morning after a deep and meaningful session with a delicious bottle of Wiser's De Luxe, but it all ended up being for naught. Well, there's fodder for conversation at least.
Backing it up now... why was the GM of a club that, while still .500, has been decimated by injuries and has no realistic hope of even getting a sniff of the playoffs attempting to
buy
at the deadline? Now, I've sort of phrased this question to make it seem like he was insane and/or three sheets to the wind for asking on the two players he did, but I don't necessarily see it that way.
Under the right circumstances, Jason Bay would be a terrific addition to this team now and in 2009 for a bunch of obvious reasons. He can actually hit like a man unlike all of the current Jays, fair weather fans would probably take interest in the team again with a bona fide Canadian star on the roster, etc. But this was a bidding war JP really had no chance of winning and I don't understand why he'd even bother making the call if he wasn't going to entertain an offer of something like Shaun Marcum and Adam Lind; Bay is a legitimate 130 OPS+ hitter signed reasonably for next year whereas outlanders probably see Marcum as a talented young starter albeit with major durability issues and Lind as a good young hitter who probably falls short of the level of production Bay's putting up now.
The offer Tampa Bay put on the table for Bay of
Reid Brignac
and
Jeff Niemann
was competitive; the former still has something to prove with the bat in the high minors, but the latter is ready to join a major league rotation and have some success now. Still, Lind/Marcum would have been a far superior package and it was probably unreasonable of Buccos GM Neal Huntington to ask for both. Would you be surprised if he just wanted to blow JP off with an exorbitant offer so he could keep the line free for Theo Epstein?
Apparently there was no follow-up conversation between the Jays and Pirates, so we'll never know if JP couldn't have talked them down into a package based around other players, or perhaps convinced Huntington to add a starter like, say, Ian Snell.
The package the Pirates ultimately settled on--
Andy LaRoche
(legit blue chipper),
Brandon Moss
(probably a 4th OF),
Craig Hansen
(undistinguished bullpen fodder),
Bryan Morris
(young starter in A ball, they all show promise then)--was a fairly decent haul for one player to a club that's going to be rebuilding for some time to come. There's no way we could/should have offered this many players in trade for Bay. If we still want him, he'll be a free agent 15 months from now.
The Raul Ibanez flirtation (reportedly, from no credible source, for Purcey and League) has wider and more disturbing implications.
Now, it's possible that JP had some genius mojo working and offered up Lyle Overbay for Ibanez straight up. Now, before you ask why the M's would have interest in a 31-year-old glove man with declining power who plays at a what's supposed to be an offensive position, keep in mind that they've been trotting
Miguel Cairo
out at the position since Richie Sexson got run out of town. We get Overbay out the way, move Lind to first and give Travis Snider an opportunity to punch his way up to the bigs next year.
Overbay is from the Pacific Northwest (not that I give a shit what's best for him) and the $6 million he's owed this year and next really isn't going to break the bank. The M's would get a local boy who can provide at least league average offense and lose two months of an aging vet who probably shouldn't be playing the field (baseball-wise at least) beyond this year. Ibanez walks, then JP gets the two compensation picks and begins the search for a new DH (Manny Ramirez) smelling like a rose. Prospects for 2009 are bright.
The more likely scenario? JP's probably thinking, what cheap bat can I slot into the DH hole
for 2009?
Raul Ibanez? Why the fuck not? He'd cost less than Frank Thomas did. I offer him arbitration at the end of the year, if he accepts he's our man, if he doesn't I get the picks. Done and dusted.
There's a problem here.
Ibanez will be 37 next year and while he's been putting up some nice counting stats over the past 7 seasons, he's probably nothing better than a 110 OPS+ hitter in 2009 with some minor age-related decline factored in. That's just not good enough for an offense chalk full of players whose offensive ceiling is just that: about 10% above average at best. Not to beat this point to death, but if you bring a guy like Ibanez on board knowing this you're counting on Rolen and Overbay to rebound, for Rios to get his head out of his ass, for Vernon Wells to hit like he's paid to. You bring in a bigger bat and there's more wiggle room for a bit of disappointment from the current crop of... disappointments.
If I'm assuming right, JP "still believes in his core" and needs a
third consecutive
dose of failure before he's convinced that more significant upgrades are necessary. He just hasn't accepted that he
needs
to add a major bat like Manram or Pat Burrell if his club is to entertain the notion of being competitive. JP just can't seem to sink this short putt.
I leaving today feeling disappointed, convinced that if JP stays on the job after the end of the season he's going to try to paper over the handful of fatal flaws in his club rather than make the bold strokes that could really, truly fix it for 2009. Nevermind the flotsam and jetsam that didn't get moved, I'm more concerned that he tipped his cards for a highly disappointing free agent season to come.
-- Johnny Was