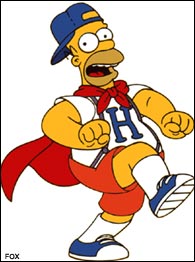 (Sad voice)
: 'Topes lose. Topes lose...
I suppose luck can run in your favour for only so long and
"lustily" booing Eric Hinske
has little effect on The Dude's one-man wrecking crew act against his former team. And all of this compounded by the fact that we're now down two shortstops for God knows how long.
Eckstein
came out in the 5th with what we expect to be some minor hip discomfort and then J-Mac went down with a nasty ankle injury after catching his cleat on a seam in the field turf in the 6th. The Oracle was talking postgame like a 15-day DL stint is the best case scenario (it's never good when a player can't walk off the field under his own power) and 60 days is entirely possible.
Cruel mistress fate bitch slaps everyone who wanted to see more of J-Mac as a defensive replacement.
Marco Scutaro will be greedily licking his chops as he is the most likely recipent of playing time at short until Eckstein is well enough to play again. I'd figure that Joe Inglett gets called up for a bench slot as J-Mac's replacement, but won't see a minute of PT on the infield.
The Oracle
expects to see Jorge Velandia instead because the dude is a natural shortstop, has been chugging at AAA, and has some ML experience. Since there are no official updates as of yet, rampant speculation is pretty much all I've got for you at this point. Stay tuned.
I don't mean to be glib, but these injuries will likely have little short-term effect on the club's overall performance. Shortstop had been the NL pitcher's slot in the lineup as Eck and J-Mac combined for an anemic .231/.309/.306 line. Mac wasn't even being used for defensive purposes until the end of the White Sox series. We had only been getting average D from Eck, which is what you can reasonably expect from Scooter as a short-term injury replacement. It sucks losing J-Mac for a prolonged length of time, but his is a loss we can weather. If we start banging out 10 hits a game (
as we did last night for only the third time since April 20
), the Ws will come regardless of who's Scotty Rolen's left hand man.
Checking on the injury,
Griff
cites some disgruntlement from Eckstein on the planned loss of an inning or two of PT per night under Gibby's new shortstop rota, but one must take all things he writes with a grain of salt/disbelief.
It's
Marcum-Garza
tonight in game 2 as the Jays seek to win the series and leave town squared away at .500.
ELSEWHERE:

*
If New Yorkers are incapable of accepting the fact that
Joba Chamberlain
will occasionally surrender a run or two, they're certainly not going to like what they see of him as a starter. Why, he might surrender as many as 3 runs over the course of a 7 inning start! How can this be? How can this be???
*
Another reason to dislike A-Rod
. Daddy, how did you meet mom? Well, darling:
"I scouted her out for a month," he said. "I wanted to see her routine, and I wanted to see what time she came in, see how consistent she was. And sure enough, she was like a machine. She would come in right after work, and get on the treadmill and do her abs. And finally, I build enough courage after about 3 1/2 weeks. And I said, 'I know you are going to go do some abs after. And do you mind if I join you?"


How romantic!
* Straight from the Aruban Penal League to the Texas Rangers, the ghost of
Sidney Ponson
throws his second straight quality start in a 10-1 laugher over the Mariners. Every time Ponson's name comes up Jay K. mentions something about picturing him drunk on a jetski punching out judges. Now THAT is a ballplayer, folks.
-- Johnny Was