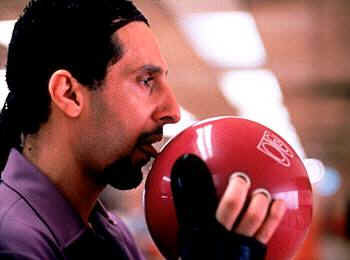 David Dejesus really didn't accomplish much of any great importance in tonight's laugher against KC, but I've been holding that one in for weeks waiting for a Jays-Royals series.
If you're not already acquainted with him, you will get to know the young Billy Butler very soon. The butterball Royals DH came close to an .800 OPS at age 21 last year in his rookie season and has computer projection models ringing happily.
Prospect guy
John Sickels
writes:
There is absolutely no doubt in my mind that, barring a catastrophic injury of some sort, Butler will be an excellent major league hitter. But the exact
shape
of that excellence is still a question. He has the long-term ability to hit .340-.350 eventually. He could be a 30+ homer guy if he concentrates more on power at the expense of batting average. With a maximal outcome, he could do BOTH at some point.


I picked Butler in my fantasy league because I like to have a a few players of this pedigree in my back pocket for deadline moves, but I'm thinking I just might hang on to the Chubby Bunny.
There are some obvious similarities between
Butler
and our very own wunderkind
Travis Snider
. Physically, they're both stocky (I'm being polite; both have been accused of having "bad" bodies) and would probably be taken by strangers as linebackers rather than ballplayers. Both were early first round picks straight out of high school and tore up the minors. Neither is very accomplished in the field, but Snider could very well end up in the outfield or first whereas Butler's bat earned him such a rapid promotion that he didn't have time to learn to play any position adequately.
Age 18: Rookie League
Butler: .373/.488/.596 (260 ABs)
Snider: .325/.412/.567 (194 ABs)
Age 19:


Butler: A+ .348/.419/.636 (379 ABs); AA .313/.353/.527
Snider: A .313/.377/.525
The biggest difference between the two is their K rate. Butler struck out only 87 times between AAA and the bigs while drawing 70 walks in a combined 532 ABs. Those numbers are remarkable considering the tender age at which he was playing at such a high level. Snider's K numbers have hovered around 25% in both of his pro seasons to date, which has alarmed some.
Snider came through the Appalacian and Midwest Leagues, both of which are known to be highly favourable to pitchers. Butler put up an .887 OPS in AA at age 20 and was up to the bigs the following year after a short 57-game stint in AAA.
Is Snider, 20, a year and a half away from the bigs? Butler was admittedly a more polished hitter at the same age, but
Marc Hulet
has speculated that Snider may well be simliarly rushed. He feels that if this is the case it would be more the product of JP's need to prove that he's capable of developing star players rather than serving the best interests of the player.
Nevertheless, I reckon you'll hear the two mentioned in the same breath with increasing frequency as Snider's ML debut draws closer.
Zach Greinke was dominant tonight but the bullpen coughed it up on him. And then David Ecstein made his second error of the night on a routine double play feed from Scott Downs. Why would we use J-Mac as his defensive caddy? Oh that's right: thanks asshole, you single-handedly lost the game.
Saviour Scott Rolen? I'd fucking say so. He drew a walk in his first AB, hit a deep flyball to left in his second, hit a hard grounder to short, then went all Stud Powercock and hit a massive 2-run double to put the Jays up 4-2 in the 8th. That's dirtbaggin' boyos! Oh wait, we still lost. To the Royals.
Overbay responded to the allegations that he's got no pop left in the 7th by socking his first dinger of the year to right centre, knotting the game at one.
Twitchy brought the issue up
here as part of his due dilligence as a statistical observer of all things, but we wanted to believe that Overbay's 2006 season isn't so far in the rear view mirror. Let's hope that turns out to be the case.
Narrator (Jerry Seinfeld tone): What is the deeeeaaaaal with Adam Lind?
It's impossible to get a straight answer.
Mlb.com
gives us this:
Manager John Gibbons said prior to Friday's game against Kansas City that the hot-hitting Lind could be close to joining the Blue Jays.
"He may be here in a few days," Gibbons said. "He has had the neck problem, but he's getting beyond that."

Right, thanks skip. Miss Cleo is more specific.

There's been a good deal of internet speculation that Super 2 considerations are the sole reason why Lind hasn't been called up yet. I'd rather learn advance calculus than find out what Super 2 actually means, but in a vague terms it's related to a player's service time and arbitration eligibility. Short version: the longer the club holds Lind back, the less risk he becomes a super 2 and the less the club has to pay him when he hits his arb year. So, it's all about money.

I put the question to Blair and this is what he said:

I'm told that service time is, in fact, 95 per-cent of the reason that Lind hasn't been up yet - along with a sore neck which doesn't appear to have hampered him at the plate. My understanding is that the Blue Jays want to prevent Lind from being what is called a "Super-2," that's it's more about arbitration eligibility than free agency. Each year a varied percentage of players without three years of service time are essentially "granted" salary arbitration rights, anyhow. The number isn't fixed, but it is common for teams to figure out how long they need to keep a player down in the minors to err on the side of caution and prevent him from becoming a "Super-2." Unless it's a guy like Evan Longoria, someone who can single-handedly change the dynamic of the team, it's a common practice for Major League clubs.
Players only receive credit toward service time when they are in the majors. Oh ... and I'm told Lind could be up with the big team this weekend. Good thing, too, because this was a team that was short from the left side even when it thought Lyle Overbay was going to hit for power

So, despite having the job security of an Iraqi suicide bomber, JP decides to throw games away in April this year to save the club a few hundred grand in 2010. You've got to admire the man's loyalty to an organization that will no longer be employing him at that point.

Or you pound your fists on the table and wonder how he could profess to having assembled a team that's built to win this year--when the Yankees are at their weakest since the early 1990s and the Rays a year from being a really serious contender--and not scratch tooth and nail for every possibly win.

Fuck you, JP. Fuck you.

If that's the way it's going to be, I suggest you do like Parkes. Enjoy the sport for what it is, get out to the ball game, stare at large-chested broads from the comfort of your dark shades, sign up for credit cards you don't want for a free t-shirt, and most importantly, have a good time.

There's Euro 2008 this summer, as well. As always, I'll be cheering on Les Bleus, mustering up the courage to ask the Mrs. if we can name our first born son Zinedine...

-- Johnny Was